"I love this place! Great service great coffee!"
"Jesus said, "Let the little children come to me, and do not hinder them, for the kingdom of

heaven belongs to such as these." (Matthew 19.14)

Our desire is to expose every child to God's unconditional love. We show them that love in the example set by God's only son, Jesus Christ. The teachers share with the children Jesus' life as written directly from the Bible. They will learn Biblical truths, have opportunity to grow through God's power and grace and build bonds of friendship.
It's our desire to foster an environment that Jesus Christ would find honorable. It's our hope that in this environment your child will learn to have an intimate and endless relationship with Him
We have a room where parents can sit comfortably with their baby (newborn to age 2) and hear the service from that room.
This class is for children 2 and 3 years old. They may be checked in 15 minutes prior to the service.
This is for children 4 to 7 years old. Early elementary children stay with parents during the time of worship and then are signed in for their class.
This is for children 8 to 12 years old. Upper elementary children stay with parents during the time of worship and then are signed in for their class.
Children ages 4 and up stay in the sanctuary for worship and then get dismissed before the teaching. Children must get signed into his/her appropriate group. One group begins with God's Word, where there is a curriculum based teaching which is knowledge and application based and the other group has activity time where age appropriate activities provide constructive entertainment and then they switch and conclude together to wait for parents to sign them out at dismissal.
Wednesday Evening Age Groups
Generally the toddler room is available for three 2 and 3 year olds and then there is one elementary class for ages 4 through 12, children can be signed in after worship.
Vacation Bible School 2011 – The Armor of God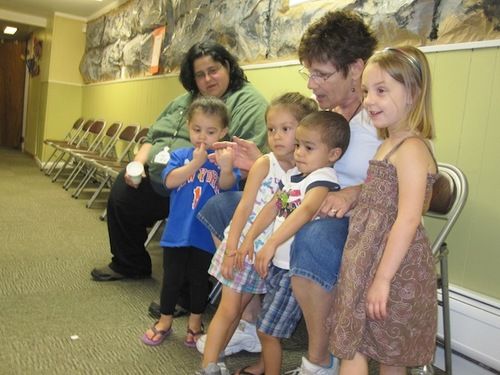 Vacation Bible School 2012 – Son World
Vacation Bible School was held August 7th through August 9th from 9:00 am to noon for children between the ages of 3 and 12.

We also had a party for the children during our evening service on August 8th. Enjoy the pictures!